(3-24-21) The Ohio Senate voted 23-10 to overturn Gov. Mike DeWine's veto on Senate Bill 22 law; the Ohio House followed with a 62-35 vote.
DeWine, who is a Republican, received support from most of the Democrats in a strange 'political marriage'.
DeWine has vetoed four bills since his term began in 2019; Wednesday marked the first time legislators voted to overturn one.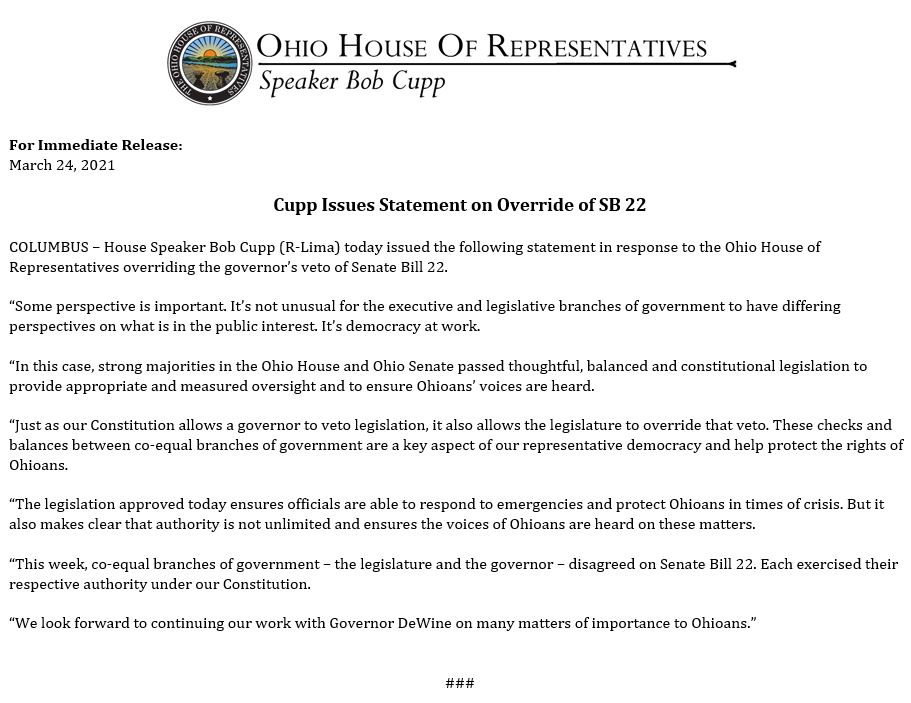 COLUMBUS— Senate President Matt Huffman (R-Lima) today issued the following statement to Ohioans:
"Ohioans have persevered through the pandemic of 2020. We heard from thousands of our constituents who fought to protect both the lives of their families and their livelihoods.

This is why my colleagues and I in the Senate voted to override the Governor's veto of Senate Bill 22. The bill gives the people the power to review orders issued by the Ohio Department of Health. More than 30 states have similar laws, and it is time for Ohio to make this change.

The Department of Health maintains its ability to issue orders and respond to emergencies. This law provides the General Assembly the ability to consult with the department and experts before rescinding an order. Senate Bill 22 represents a balance of power, not a battle for power.

The General Assembly truly represents the voice of the people from district to district and town to town. The people must never feel forgotten, especially during times of emergency, when unchecked power can be used to impact lives and livelihoods.

I look forward to working with my colleagues in the General Assembly and the Governor's office to make decisions that are safe and fair for the people of Ohio."
Social Media Responses