Updated 7-21-20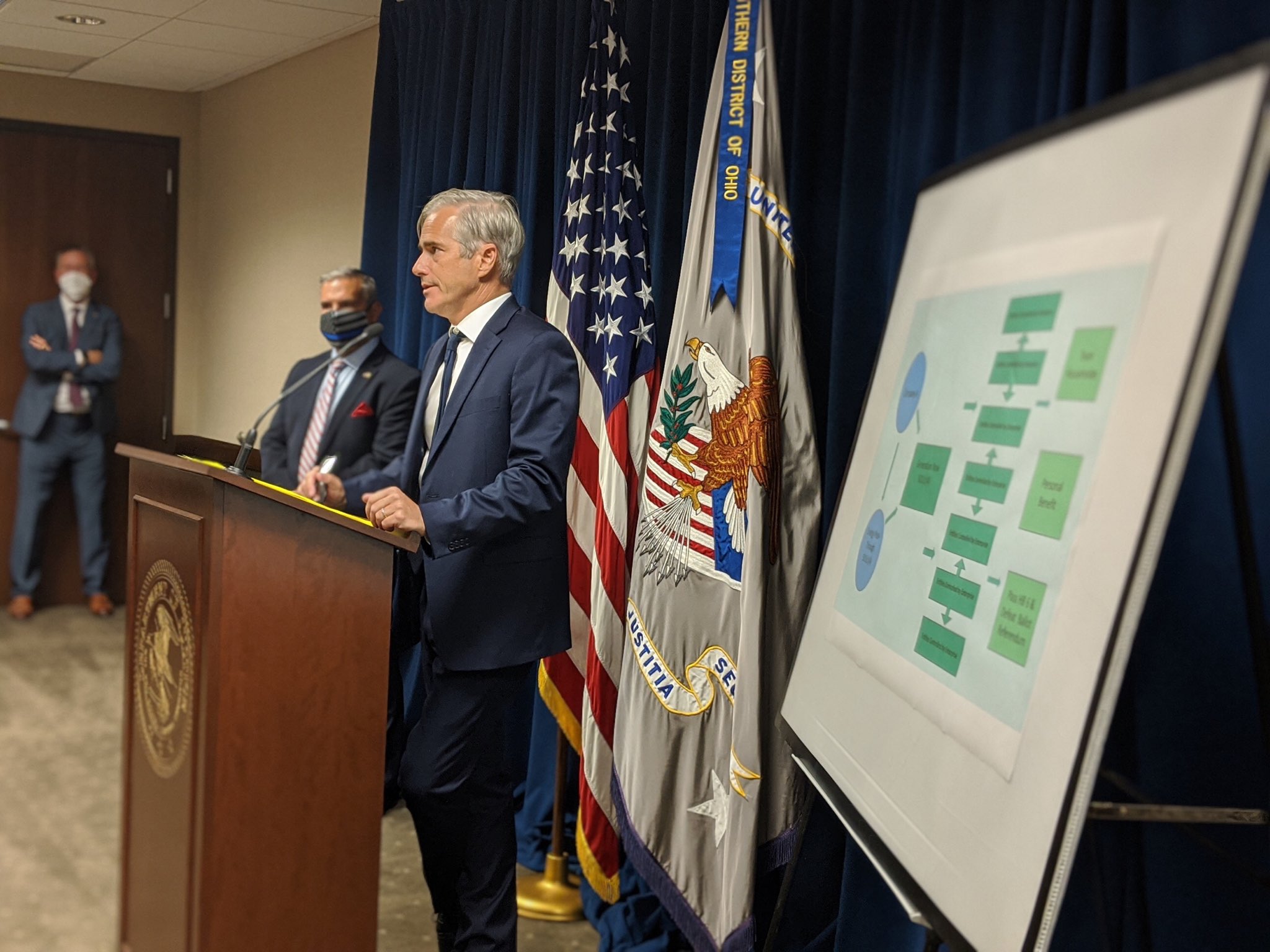 The FBI and U.S. Attorney David M. DeVillers news conference in Columbus
U.S. Attorney David DeVillers:
"We're here today to discuss likely the largest bribery, money laundering scheme in the state of Ohio."
Charging documents allege that the defendants received more than $60 million paid to a 501(c)(4) Generation Now to pass and uphold a billion-dollar nuclear plant bailout. It is alleged Generation Now was secretly controlled by House Speaker Larry Householder.

Charged are:
Ohio Speaker of the House Larry Householder, 61, of Glenford, Ohio
Mathew Borges, 48, of Bexley, Ohio, a lobbyist who previously served as chair of the Ohio Republican Party
Jeffrey Longstreth, 44, of Columbus, Householder's longtime campaign and political strategist
Neil Clark, 67, of Columbus, a lobbyist who owns and operates Grant Street Consultants and previously served as budget director for the Ohio Republican Caucus
Juan Cespedes, 40, of Columbus, a multi-client lobbyist
The federal complaint details a sophisticated criminal conspiracy to enact bailout legislation on behalf of a company, corruptly defeat a potential ballot initiative, and illegally divert money for personal uses.
The 80-page complaint says defendants corruptly used $60 million to promote Householder, pass House Bill 6 and defeat a ballot initiative to overturn the legislation.
Householder received $400,000 in personal benefits "to settle a personal lawsuit, to pay for costs associated with his residence in Florida and to pay off thousands of dollars of credit card debt."
Ohio Governor Mike DeWine issued the following statement Tuesday afternoon:
"I am deeply concerned about the allegations of wrongdoing in the criminal complaint issued today by the U.S. Attorney's Office. Every American has the presumption of innocence until proven guilty. Because of the nature of these charges, it will be impossible for Speaker Householder to effectively lead the Ohio House of Representatives; therefore, I am calling on Speaker Householder to resign immediately.

"This is a sad day for Ohio."
(7-21-20)— The FBI and U.S. Attorney David M. DeVillers have called a news conference in Columbus at 2:30 p.m.today to announce charges related to $60 million bribe to a "state official" and "associates".
FBI agents and the Perry County Sheriff's Department were at Ohio House Speaker Larry Householder's (R-District 72 ) farm in Glenford in Perry County early this morning according to a Dayton Daily News story ahead of an announcement about a $60 million federal racketeering case.
Media sources are reporting that Householder adviser Jeffrey Longstreth, Statehouse lobbyist Neil Clark, former Ohio Republican Party chairman and consultant Matthew Borges and Juan Cespedes, co-founder of The Oxley Group in Columbus have been arrested in this matter.
It is the second Midwest state to face such a scandal, the other is in Illinois. Illinois House Speaker (D-Chicago) Michael Madigan is under investigation by federal prosecutors who sent new grand jury subpoenas to Madigan's offices and made a separate court filing in which utility giant Commonwealth Edison admitted to engaging in bribery to burnish its image with Madigan as it looked to advance a high-stakes Springfield agenda.